Treading the boards knowing savings are secure
We love interacting with our customers for all sorts of reasons. One of the chief ones being how downright interesting they are!
Our borrowers and savers cover the entire spectrum of trades and professions, and one such example is Richard Asbury, who might well be better known to many fans of theatre and TV drama by his stage name, Richard Avery. The professional actor and director has been a loyal Beverley Building Society customer since 2008, when he chose to open a savings account with us.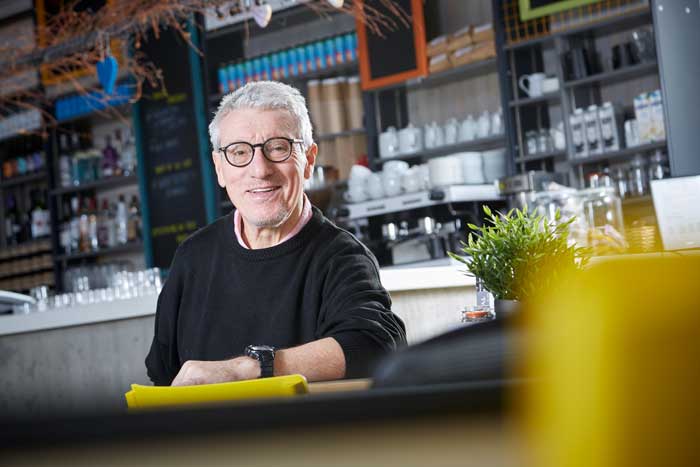 "I'm very keen on supporting local businesses," Richard explained. "Someone mentioned how good the service was at the Society, so I popped in for a chat. I remember being really impressed with the friendly atmosphere in the branch and the clarity of information the team gave me.
"I find national banks and building societies somewhat faceless. However, with this Society, it has never felt like I'm dealing with a corporation. I've always been treated as an individual and the staff have shown a genuine interest in me. I do believe it's important to feel like your custom is truly valued."
Richard has been involved in the theatre for more than four decades, but his first stint of full-time work as a young man was in the retail trade, selling shoes and later furniture. He said: "My retail work helped me develop an instinct for picking up on how a place feels as soon as you walk in. There's an element of showbiz in all high street shops, it's all about the customer experience, and in turn good experience builds trust.
"Nobody wants to experience rudeness or coolness, but sadly that is what you get in some places and I have experienced this at other financial services providers. As soon as you walk into the Society's branch, though, you can tell it's well run, and 100 per cent professional. I visit around once a week and the staff are always so professional and friendly. And if I bump into them on the street, they'll be sure to give me a cheery 'hello'."
He added: "Beverley Building Society has a unique flavour and I hope they never lose the personal service, the smiles, and the friendly chat. It always feels as though the staff are working in a place where they really want to be. If customers like me leave the branch feeling good, it tells you they're doing something right."
A lifelong passion for theatre
Richard moved to the East Riding back in 1996 with his wife Andrea, who teaches drama at Hull Collegiate, after spending 24 years in London. Andrea grew up in Bridlington, and although the couple had been scouting for homes in a variety of attractive locations across the UK, it was during a visit to Beverley that they spotted their ideal property in an estate agent's window. "We went to view it the same day and immediately knew it was the right home for us," said Richard. "We still live there now."
Despite very much enjoying all of Beverley's tranquil and historic charms, the call of the London stage returned just a year after their move. "I was offered the role of Captain Orton in The King and I at the London Palladium," Richard explained, "so I spent the next two years commuting back and forth to London!"
Both Richard and Andrea honed their craft with the prestigious Royal Shakespeare Company, with Richard wowing audiences in roles including Macbeth, Autolycus from Winter's Tale, the dead king's ghost in Hamlet, and Oberon in A Midsummer Night's Dream. His impressive CV also lists appearances in many TV shows, such as The Bill, Emmerdale, Coronation Street and Kinsey.
Thriving town arts scene
But it's Richard's more recent affiliation with the Beverley-based East Riding Theatre that is taking up all his energies currently. He explained: "Back in 2014, I was walking along a Beverley street and was surprised to bump into the actor Vincent Regan, who I knew from my RSC days, and it turned out he had also moved up north. We talked about starting a theatre together and, to cut a long story short, that was the birth of East Riding Theatre."
The theatre, based in Lord Roberts Road, has become a thriving arts hub in the town, attracting notable patrons including eminent actor and film star Mark Rylance. Some of Richard's favourite acting and directing memories have emanated from this immensely successful enterprise. He added: "I was in a production there of the popular play Art with two of my closest friends, and it's all about three friends so that was a great experience. I also really enjoyed Swinging the Lamp, a story of Hull trawlerman Jim Williams, and directing the First World War tale Fallen Leaves was also wonderful."
Community spirit is something that's of great importance to Richard, and he is keen to recognise the vital contribution that volunteers make to East Riding Theatre. He added: "There are lots of people who give their time and love to the theatre, without them it wouldn't be the success that it is."