Supporting school team's sporting prowess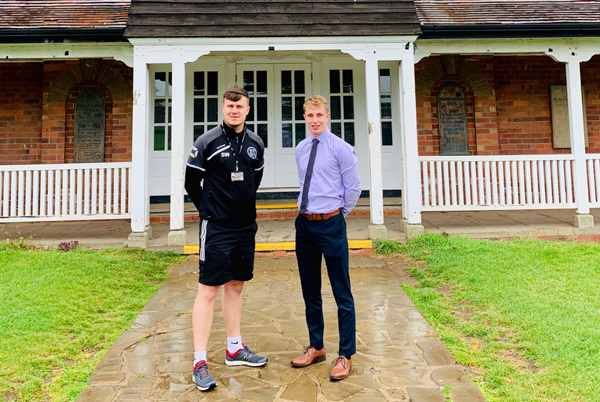 The Society has sponsored new shirts for Beverley Grammar School Sixth Form's football team.
We have donated £400 to fund a new shirt for each team member, to ensure they look the business as they prepare for their most challenging season yet.
And the gift was inspired by one of our newest staff members, Austin Green, who has just joined us after completing his A-levels at the school.
The donation was made as part of our commitment, as a mutual, to supporting the communities where our members live and work.
Chief Executive Karl Elliott said: "We know what a vital part sport plays in the wellbeing of young people in all sorts of ways. The school contacted us to see if we could help and, with Austin joining us recently, fresh from the sixth-form, it seemed appropriate for us to step in."
Sam Wright, the School's Sixth Form Pastoral Manager, has put heart and soul into developing the sixth form team since taking on the role just over a year ago, and is really proud of the progress they have made.
Sam, whose mum Annette is one of the Society's mortgage managers, said: "I've concentrated on building this team because, while our pupils have sports lessons as part of the curriculum in the younger years, they don't in sixth form. Yet physical activity is really important for their development, in terms of social life, self-confidence, fitness, and also dealing with the pressure of preparing for their exams.
"They've just had an amazing year, and are unbeaten with the exception of one school in the region. As a result, they're moving up into the inter-college league this September. They've built up a strong reputation and the coming year will be a positive new challenge for them. That's why I wanted them all to have new kit, without worrying about cost, and we're really grateful that the Society has heeded our request for help."
As a former pupil himself, Austin, who is training as a mortgage consultant with the Society under our apprenticeship offering, is proud that his former school's team will be sporting the Society's logo.
"Beverley Grammar has a really good sports offering and I had the opportunity to get involved in things from softball to rugby and football during my time there, so I know first-hand how beneficial it can be to students' development.
"So, now that I've joined the Society, the fact we're involved in helping the sixth form team out means a lot."