Supporting our lifelong savers
It's humbling for us to recognise that many of our wonderful customers are incredibly loyal. Some are lifelong savers, and we are honoured by their generous recommendations to their family and friends to choose us to safeguard their money.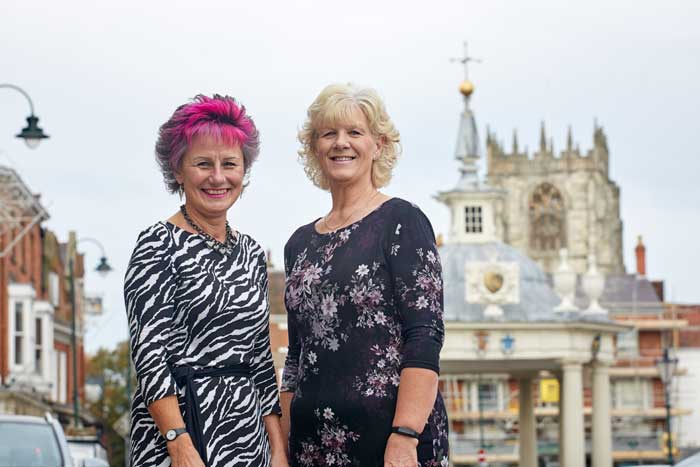 One of the recurring themes of our customer feedback is the friendly, welcoming and approachable nature of our team. Our people take genuine pleasure in getting to know our customers, and many of these familiar faces have come to feel like friends over the years.
Two of our 'regulars' always brighten up our day, and we'd like to take the time to introduce them – best friends and Beverley residents Karen Jeffrey and Dawn Overton.
Opposites attract!
By their own admission, these ladies – who have been best buddies for more than four decades – are complete opposites.
"Karen has a really lively and outgoing personality," said Dawn. "She's a bit mad sometimes! I'm quieter, more reserved and laid-back but we get along ever so well, and we each have just as much fun."
The pair met in their late teens in the heady, thumping atmosphere of what was at the time the town's premier nightclub, the 'Beverley Hills' on the Norwood crossroads. Little did the girls realise at the time that their shared passion for music and dancing would lead to a lifelong friendship.
Every year they attend about six or seven concerts across the UK, and they've been regulars at local Northern Soul events for decades. "We like 80s and soul music," Dawn explained. "We've been to see singers including George Benson, Alexander O'Neal, and groups like the Human League. And we're still dancing!"
The pair meet once or twice a week for a coffee and a catch-up, and enjoy planning shopping expeditions. Dawn added: "I love Christmas markets. We've been to quite a few but I have to say I think Beverley's is the best."
Local loyalty
The friends have both lived in Beverley for many years – Karen was born and bred in the town, and Dawn's family moved there when she was 16, after her father left the Army and took a job at what was Hodgson's tannery, in Flemingate.
For self-employed mobile hairdresser Karen, good money management has always been critically important, as she supported herself from the tender age of 17. Starting out as a Saturday girl at Jenny's salon in Wednesday Market (now Liberty's), she's lived happily in Beverley for over 30 years.
"I remember earning £13 a week in my first job!" said Karen. "It's always been a challenge to save but I guess that even though I've never earned a lot, I've been good at managing my money.
"I started with nothing and bought everything second-hand, I've always been careful about budgeting. I opened my first savings account with Beverley Building Society when I got my first job, and I've stayed with them ever since."
Many banks and building societies have stopped using passbooks, but it's something Beverley Building Society understands many of its customers value. Karen now has five instant access savings accounts with the Society, and each one has a specific purpose. She admitted: "I'm old fashioned, I like to use a passbook and it's nice to have separate books for the different things I need to save for. I wouldn't know where I am if it was all in one pot! Nobody says 'you can't have five accounts' or 'you're not allowed to have a book', like they do at some places."
She added: "To be honest I can't remember why I chose the Society in the first place as it was so long ago, but I know why I've stuck with them – the staff are outstanding. They are so nice and helpful, and it's important to me that I'm able to speak face to face with someone. If I want to know anything I can pop in and they will explain things in a way that's easy to understand. It's a very relaxed environment, it feels really comfortable."
Small and friendly
Dawn has also lived in her home in the town for more than 30 years. She moved there in her early 20s, only to fall in love with the man who lived next door!
"David was living with his parents and siblings but eventually moved in with me," she explained. "His father still lives next door so we're all very close." Dawn now has three children and the couple are blessed with four grandchildren who naturally keep them busy.
Dawn has worked in Beverley all her adult life, originally in various well-known shops including Woolworths and Cellini's, before taking up part-time cleaning roles more recently, and also supporting her daughter with childcare.
She first joined the Society about 10 years ago, to open a savings account specifically to save for a new summerhouse for her garden. And recommendations to family have led to more savings accounts being opened for some of Dawn's young grandchildren, to help give them the best start in life. "My mum wanted to put some money into long-term savings accounts for them, and we really wanted them to have passbooks so they had something tangible to show for it," she added.
"I like Beverley Building Society because it's a small independent, and you get a friendly, more personal service. I don't do internet banking and I don't want to be treated like a robot! Other places are shutting down their counters, but I enjoy passing the time of day with a friendly face and all the staff at the branch are so nice and welcoming."
Valuing our customers
Lesley Wegg, the Society's Head of Operations, said: "Customers like Karen and Dawn are the lifeblood of Beverley Building Society.
"They are what make us tick. It's an absolute pleasure to support their savings goals and to catch up on everything that's going on in their lives when they pop into the branch to see us."