Latest COVID-19 lockdown – we're still here for you
Well, come Thursday we're facing the onset of another lockdown, announced by the Government to try to stem the spread of the coronavirus.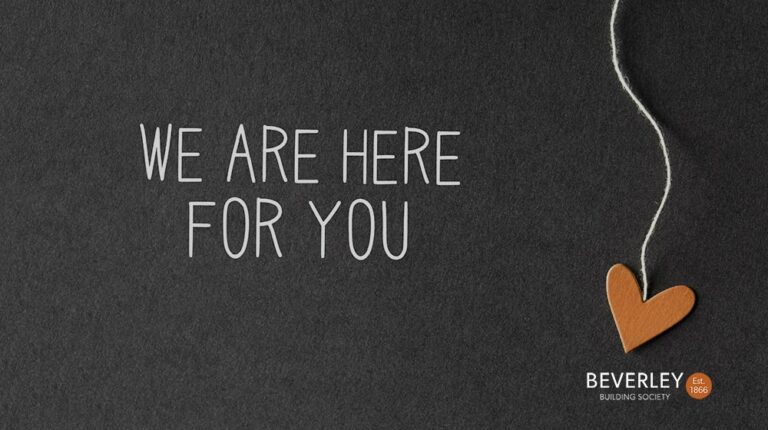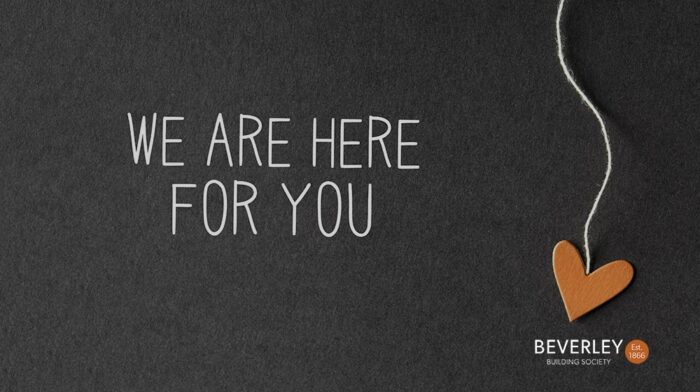 We sincerely hope that you and your family are managing to stay safe and well amidst fresh concerns around the growth of the pandemic.
We understand that our customers, along with the rest of the UK population, will be trying hard to understand the detail of the new restrictions, and work out which areas of their day-to-day lives they will need to curtail again, until at least 2 December.
We have huge empathy for any challenges you are experiencing, and would like to reassure you that, as an essential service, Beverley Building Society will remain here to look after your financial requirements. Our branch will remain open from 10am to 3pm weekdays, and our telephone lines from 9am until 5pm, and our dedicated team will remain here to provide you with the excellent, personal service you've come to expect from us.
We continue to take all possible steps to protect our people and customers, with limited counter service, social distancing and hand sanitiser in place in our branch, so that you can rest assured you can transact safely.
Not only that, but we are pulling out the stops to help new and existing customers to achieve their financial aspirations despite the current situation, by taking a flexible approach to lending to everyone from the self-employed to first time buyers; and offering a range of good value savings products, including a new fixed rate bond. And all savings with us benefit from maximum protection under the Financial Services Compensation Scheme, up to £85,000 for a single account and £170,000 per joint account.
With you, for every step
The Society's Chief Executive, Karl Elliott, said: "With everyone experiencing a real emotional and practical rollercoaster at the moment, we understand that being able to manage their finances effectively will be at the top of many people's minds.
"As a traditional, member-owned regional building society, we take our role in helping them to do that with peace of mind, very seriously, and our team are passionate about being here to help where we can throughout this time of national high alert.
"They have been here since the beginning, ensuring that we are serving customers as best we can.
"All we would ask is that customers work with us to help us protect them, our people and our community, by transacting in-person and in-cash only where necessary;
observing social distancing and good hand hygiene whenever they do come into branch, and checking in using the QR code displayed in-branch, via the NHS Covid-19 Track and Trace app."
Karl added: "Should we need to make any adjustments to our services due to COVID-19, we have contingency plans in place to ensure continuity and will notify customers in good time, via our website, social media and branch windows, what steps they should take to continue managing their accounts with us."
We will continue to keep an eye on the developing situation with COVID-19, and changes to the way we operate, and possibly where from, are possible. Below are a number of steps you can take to help us avoid unnecessary interruptions to your service, for example if we need to operate temporarily from another venue.
Ensure all of your personal details, including contact information, are up-to-date.
If you don't have another bank account we can electronically transfer your money to, please get in touch with us via (01482) 881500 or email the savings team and we will try to find a solution for you.
Our mortgage team are continuing to offer advice appointments over the phone. Get in touch via (01482) 881510 or the mortgage team email to arrange one.
Protect yourself from fraud: Unfortunately, cybersecurity experts are warning that criminals are continuing to capitalise on the coronavirus situation. Please be vigilant and treat any new contact you receive via SMS text message, email or telephone as potentially suspicious, particularly if it asks you to pay out or transfer money. If you are at all unsure about any communications you receive, check before you act on them, and be wary of anyone you don't know offering you services at home – including bringing you supplies if you are self-isolating and don't have the support of friends and family.
Check our status before coming into branch, for the latest situation and to avoid any wasted journeys.
If you think you might experience any difficulties in paying your mortgage, talk to us at the earliest opportunity and we will do our best to help you find a solution.
Even if we reach a point when we are not able to be physically here, we will remain on-hand to serve your financial needs throughout this challenging time. If you are concerned about anything at all, please don't hesitate to us on (01482) 881510, or [email us], and we will do everything we can to help and reassure you.