Joining forces with East Riding Theatre on poignant original drama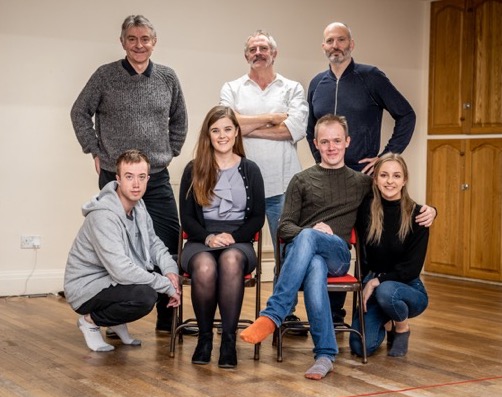 We're very excited to be sponsoring East Riding Theatre's new original play, Horseshoes for Hand Grenades, which explores the impact of World War I on an East Yorkshire community.
As part of our ongoing commitment to this outstanding local venue, the Society has helped towards the staging of this Autumn production. The money we have donated will also fund a special minibus trip being organised by the community transport charity, Beverley Community Lift, for 14 of its members to enjoy one of the performances, on Wednesday 9 October.
Horseshoes for Hand Grenades is a new piece of writing by Richard D Cushing which explores the passions, hopes and struggles of a Yorkshire community trying to come to terms with the devastation of World War I. This inaugural production and world premiere of the play will run at the theatre on Lord Roberts Road, from Friday 26 September until 19 October.
It follows the story of Andrew, who wants to be an artist, not a blacksmith like his father and grandfather before him.
The show's programme reads: "Andrew has great plans for himself and his sweetheart Emily. The Great War, unfortunately, has other plans for the able-bodied men of the East Riding! As the brutal war in Europe lays waste to the young men of Great Britain, life is changed forever. After the last shot is fired, Emily waits for Andrew on the station platform, as the wounded return from the front.
Did he survive? What will the future hold? Will life ever be the same?"
Our Chief Executive, Karl Elliott, said: "East Riding Theatre has been one of our key community partners for over two years now, and we're delighted to have the unique opportunity to get involved with this outstanding show.
"Established in 1866, we're one of the region's longest-standing institutions and operated through both World Wars. We're also acutely conscious that many of our members and their families were deeply affected by it, and that the experiences highlighted in this play will chime deeply with them.
"Therefore, it's our privilege to support both bringing it to life and making it accessible to more people in collaboration with our other respected community partner, Beverley Community Lift."
East Riding Theatre's Sue Kirkman said: "It is vitally important for theatres like ours to forge positive partnerships with local businesses for new initiatives like this one, and we are one again very grateful for Beverley Building Society's support."
Fiona Wales, Manager of Beverley Community Lift, added: "Our trips are hugely popular with our passengers and tickets for the production were snapped up very quickly. We're very grateful to the Beverley Building Society for part-funding this extra treat, to benefit members of the local community who can't easily visit the theatre otherwise."
Our Mortgage Manager Jess was lucky enough to join the cast during their first week of rehearsals, for a behind-the-scenes peek at their preparations.
She said: "It was really fascinating to witness the process the theatre team and cast go through in bringing a script like this to life. They painstakingly consider every line and try it over and over again until they get the tone just right."
As an additional contribution,we will be giving away five pairs of free tickets to our members for the production's opening night. Names will 'drawn from a hat at 5pm on Friday 20 September, so if you would like to take part, please pop in and see us at 57 Market Place, Beverley, and ask a member of the Society's friendly branch team for details.