Delighted to welcome Esther Morley as our new Non-Executive Director
We've recently appointed Esther Morley – former Managing Director of challenger bank Secure Trust's mortgage division – as a Non-Executive Director (NED).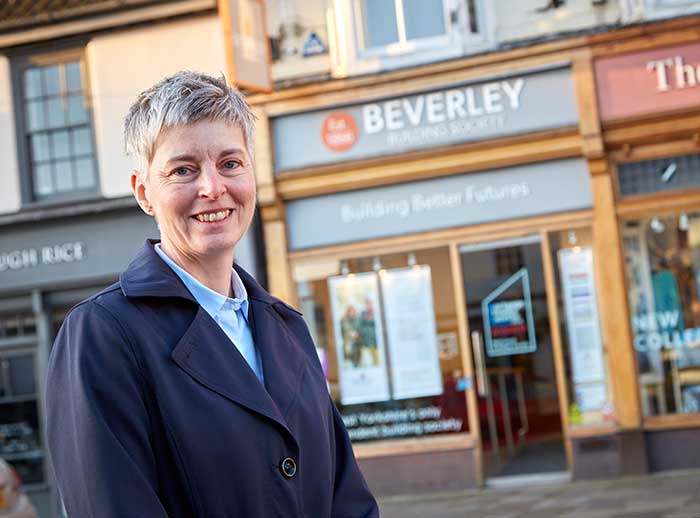 And we're really looking forward to the insights she will bring from her 20 years of financial services experience, in particular the lending knowledge she gained during her time with Secure Trust.
Society Chairman Stuart Purdy said of Esther's appointment: "It's great to have Esther further bolster our highly experienced Board team.
"I'm confident she will bring fresh ideas, and her own unique brand of dynamism and energy, to our board.
"Her arrival is particularly timely, given our strong focus on growing our lending as part of our Building Better Futures strategy.
"Esther's knowledge and experience, gained working with a leading specialist lender, will be invaluable as we further develop our 'common-sense lending' approach."
And Esther's first impressions of the Beverley, which represents her first non-executive position, are equally positive.
"I was attracted to this role because of the opportunity it represents to work with an organisation with such a history and presence in its region, which balances real potential with a genuinely warm and friendly approach to customer service.
"I think there's a huge opportunity for the Beverley to further engrain itself within its East Yorkshire community, in particular, as well as reaching a wider national customer base, by offering more in terms of lending.
"I'm hoping that, with my skill set, I can help the Society in its desire to grow and further serve its membership.
"My background is in specialist lending and, in particular, serving those customers whose needs aren't currently met by high street lenders. These people are an ideal target market for the Beverley because of the knowledge and experience within its lending team, and the fact it can take the time to support customers individually.
"I'm really looking forward to working with Karl and the team to help them bring that to life."
Esther added: "This has been my first encounter with Beverley, but it's a beautiful area and the building society team are a really warm and welcoming group of people – all the way from the front counter to the executive and Board teams.
"The Beverley is also really well-regarded within its surrounding community and all of the customer feedback recognises it as being genuinely brilliant at customer service, something many bigger financial services brands would dearly love to emulate."
Now MD of the Premiss Consultancy business consulting company, during her career at Secure Trust Bank, Esther was Managing Director of its mortgage division, with full profit and loss
accountability. She brings extensive experience in specialist lending, credit risk management, marketing and product analysis.
Esther's appointment was recently passed resoundingly by our members, details of which you can read in our other recent blog about our 2020 AGM.