Charities benefit from Society's generosity
A number of Yorkshire charities have received surprise donations throughout the past year thanks to the generosity of the Society and its community-minded members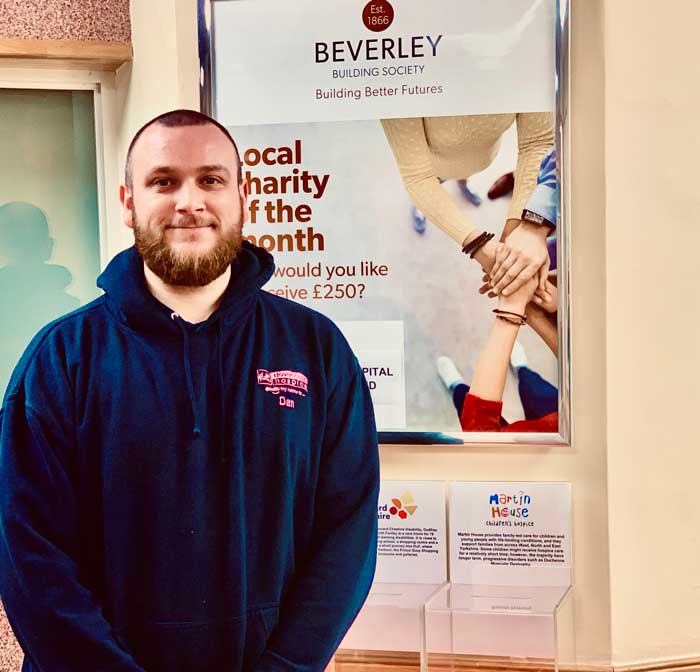 We have recently handed over cheques to three more local charities, as part of our regular 'charity of the month' campaign. Dove House Hospice, the Sir James Reckitt Charity, and The Castle Hill Hospital Cancer Trust Fund are the latest organisations to benefit from our monthly donations of £250 as respective winners of the October, November and December votes for 2019.
Karl Elliott, Chief Executive of the Society, said: "It's an honour for us to be able to support such deserving organisations. I hope the money will assist each charity, and its users, in their incredibly valuable work.
"The Society is owned by our members and all of our profits are ploughed back into the business to keep us strong, to continually enhance the products and services we offer and also to enable us to contribute to the life of East Yorkshire and beyond."
Donations very gratefully received
Dan Clipson, Regional Fundraiser at Dove House Hospice, paid thanks for his hugely well-thought of charity's recent £250 donation. He said: "We are very appreciative to the staff and members of Beverley Building Society for their kind donation and thoughtfulness in choosing the hospice as their nominated Charity of the Month.
"This money will allow 25 patients to enjoy a delicious home-cooked breakfast, lunch and dinner here at the hospice, which many look forward to as part of their days spent with friends and family. Support from the local community allows the hospice to remain completely free for all those that need our services in Hull and East Yorkshire".
Dove House Hospice offers specialist palliative care to adults with life-limiting illnesses. There is no charge for any of the services provided and anyone from Hull and across the East Riding can be referred to the Hospice for care. All care is specifically tailored to meet the individual needs of each patient and their family.
This specialist care is given through a day therapy unit, an in-patient unit with 20 beds and social work teams, as well as an education department. This community service survives, in the main, on voluntary funding from the local and business communities. Over £8.23million is required every year to maintain and develop its specialist care services.
The Sir James Reckitt Charity is a grant-making charity whose principal aim is to support causes which serve the public benefit in Hull and the East Riding. Every year it distributes grants totalling £1million, with each funding request being judged on its own merit.
Jim McGlashan, Charity Administrator, said: "We're very grateful for the Society's donation, which will help us support good causes which contribute to the social and economic wellbeing of the East Yorkshire region, including Beverley-based initiatives on the Swinemoor estate and in collaboration with organisations like ERVAS and the Cherry Tree Association." The charity was set up by Sir James Reckitt's company. Many of its trustees are descended from the well-known Hull benefactor in one way or another. Now run independently, the charity will celebrate its centenary in 2021.
All the winners for 2019 were as follows:
January – Doorstep Hull
February – Beverley Consolidated Charity
March – St John Ambulance
April – Hull and East Yorkshire Mind
May – Downright Special
June – Dementia Friendly East Riding
July – Beverley Rethink Carers Support Group
August – Guide Dogs: Yorks, Lincs and East Yorkshire Mobility Team
September – Andy's at St Andrew's Hospice
October – Dove House Hospice
November – Sir James Reckitt Charity
December – The Castle Hill Hospital Cancer Trust Fund
And it didn't end there…
Downright Special
Louise Smith, Community Fundraising Champion for Downright Special, was delighted to collect their cheque for £250, which went towards funding the cost of running the charity's weekly fun and education sessions.
She said: "We were so happy to be nominated as Charity of the month. The sessions which the Beverley Building Society donation will help to fund offer early intervention tailored to the specific learning needs of children by providing fun and education as well as play to support children and families."
Dementia Friendly East Riding
Dementia Friendly East Riding used its £250 donation to part-fund an initiative shining a spotlight on the illness and its effects on people's lives, called The Memory Project. The initiative centred on a play written by Elizabeth Godber – daughter of renowned local playwright John Godber – which was performed at East Riding secondary schools last November. It featured the stories of real people Elizabeth met with in her quest to understand more about dementia. The Society's funding helped around 500 13 to 16-year-olds, mainly in years 9 and 10, to experience its poignant content. Simon Foster, from the charity, said: "Dementia comes in many guises and affects people of all ages but it's not an illness that people are particularly comfortable talking about. There are things that can be done to improve the quality of life of people with the disease and their families, and we are keen to help as many people as possible to understand what they are by encouraging them to talk about their experiences. "That's why we worked with Elizabeth and touring theatre company, Smashing Mirrors, to help young people to better understand the issues and how to deal with them."
Hull & East Yorkshire Mind
Marie-Louise Robinson, Community Fundraiser for Hull & East Yorkshire Mind, said: "We provide support and advice for local people who are experiencing mental health difficulties, to help them get the support they need to change their lives for the better. One in four people experience mental health issues at some point in their lives and we want to encourage more people to talk about mental health, to help eradicate this.
"We'd like to thank Beverley Building Society and its members for their kind donation, which will help us in providing a vital listening ear and counselling support when people need it most."
Yorkshire Air Ambulance
The Society also had the pleasure 2019 of handing over a cheque for £480 to Yorkshire Air Ambulance (YAA), which brings the total it raised in the previous 12 months for the valuable medical service to nearly £1,500. The donation was a result of the Society's AGM in April 2019, where members were promised each vote they made would equate to a 50p donation to YAA. In 2018, the Society also raised £1,000 for the charity as part of its Tour de Yorkshire activities, in recognition of the YAA's status as the event's official charity partner.
Bob Smailes, East Yorkshire Fundraising Manager for YAA, said: "We are delighted to be the beneficiary of Beverley Building Society's fundraising. We are an independent charity serving five million people across the whole of Yorkshire and need to raise £12,000 every day to keep our two state-of-the-art helicopters flying."
Nominate your favourite charity!
All members of Beverley Building Society are encouraged to nominate a charity of the month and can do so by emailing info@beverleybs.co.uk, calling the branch on 01482 881510, or by popping in and speaking to a member of staff.
People can keep an eye out on the Society's Facebook page for details of which charities are nominated each month https://www.facebook.com/pg/BeverleyBuildingSociety